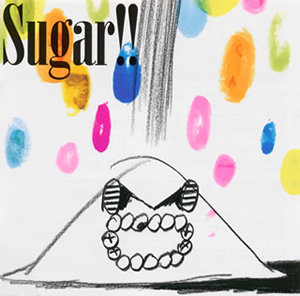 Sugar!! is the 11th single CD of Fujifabrick's released on the 8th April 2009.
Unfortunately, it became the last single CD in which Mr. Masahiko Shimura got involved in songwriting and producing.
This is one of the songs that made the most inquiries on this blog, especially for an English translation.
In Japan, it was chosen as the theme song of World Baseball Classic in 2009 on J Sports Channel, and was also as the theme song of J Sports Stadium 2010, which broadcasts baseball matches.
This offered opportunities to not only the Fujifabric fans, but also to many baseball fans for hearing this song in the programme.
On the 10th August 2010, the official professional baseball match, Yokohama Bay Stars VS Chuunichi Dragons, was held at Kose Sports Park in Kofu City, Yamanashi Prefecture. This kind of match is held in Yamanashi only once a year, and the baseball stadium was filled with feverish excitement just after the highschool baseball preliminary matches to go to Koshien was finished.
In the middle of the programme, "Sugar!" was on TV many times, and I was so moved to hear this song.
Mr. Shimura, who was a baseball boy when he was at school, never even imagined that his song would be on TV for professional baseball matches at that time.
I celebrated his great success but I indeed felt very sorry, too, about his premature death that a bright future was waiting for him.
29 years of his life was really the one with all his might exactly like the lyrics of "Sugar!!".
There is something shining in this song that we cannot find in a song written by a songwriter leading a rubbish life - it might be derived from the pure-hearted true spirit of Mr. Shimura.
Every morning, he wrote what-to-do list of the day on a piece of paper, and made an endless quest for music.
He often gave up his holiday, too.
In terms of time, his life was not long at all, but I believe that he finished his maginificent job, that an ordinary man cannot do even spending 80 years. God highly evaluated his work, and called up Mr. Shimura to His land of piece and happiness little earlier than the others.
"Do our best" is one of Japanese virtues in morality.
It is the proof of hard works and it is possible only for a man with earnest characteristic.
It is often stated in this blog, that climate influences the character of people who live in the area to a great extent.
Because Japan has distinctive four seasons, and season keeps changing every three months, we will be in a serious trouble if we stay being idle like a cicada.
It is compulsory to prepare for winter since a warm merry season preventing not to suffer from shortage of food, clothes and house.
One of the reason why Japanese admire hard work is there are many natural disasters in Japan.
I am often asked, "How did ancient people chose Japan and come to the idea of settling down there?".
It is true that Japanese have suffered from natural disasters always such as volcanic explosions, earthquakes, typhoons, Tsunami, and floods.
In 2004, Southern part of Thailand was hit by Tsunami caused by big earthquake in the Sumatra sea, but normally typhoons, earthquakes and volcanic explosions hardly give a great damage to the people in Thailand.
In a rainy season, some minor floods are reported from the North, but that is no comparison to the damage done in Japan though.
This kind of hash climate, regardless the beautiful four seasons, promoted the feeling of virtue in the hardworking and ephemera.
Two Japanese scientists have received Nobel Prize for Science this year.
There are not any other countries in Asia but Japan has the greatest number of Novel Prize winners in Asia.
We are in severe recession now, but it is a good opportunity to remind ourselves that we have a great culture and spirit we can be proud of to the other nations.
After having lived in Thailand many years, I have realised that being hardworking is not something common in the world.
Whether you are hardworking or not, it is not a great deal - if going to the river, you can find many fish, you will not die from cold weather even you sleep outside, and the forest is full of tropical fruits!
What to worry?
This must be related to the Thai "Mai Pen Rai" ("Never Mind") mind in any matters.It is a great spirit to live in Thailand.
To give a right a judgement to the other culture in different countries, we have to always remember our own culture and mentality.
What Mr. Shimura wanted to tell us, with his pride, even by "stepping across the sky".
At the Yamanaka Lake in Yamanashi Prefecture, Fujifabric played "Sugar!!".
I will never forget Mr. Shimura's eyes vaguely staring far far away.
One of the things that Mr. Shimura, who has now become one of the "Shining stars high up in the sky", wanted to tell us can be the importance of being earnest and hardworking, which Japanese can be proud of.
He ran through his life flat out, and showed us what is important by himself.
"Wait for me I 'll deliver it to you"
We should never forget "something important" that Mr. Shimura wanted to tell us.
Enjoy listening to "Sugar!"