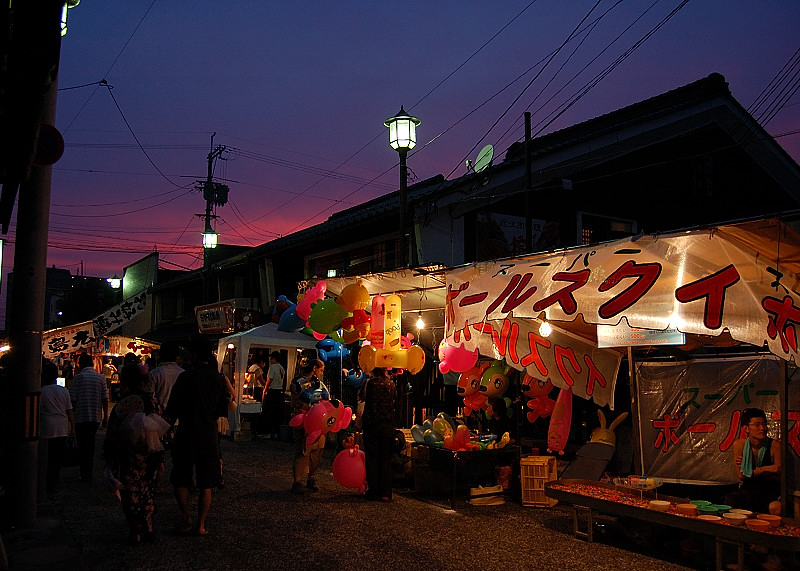 Let's take a close look at the lyrics of Mizuame To Wataame (Mizuame Candy and Cotton Candy) today.
The lyrics has already been translated into English, so please enjoy the fantastic lyrical world of the song fully in the FAB FOX in Lyrics on the right of the page.
From the words, "town lights", "a shooting star", "Yukata", the setting of the song can be guessed - one summer night. It is about homeward bound on summer night.
The song begins with a breeze-like noise, which is made by swinging a plastic toy hose sold at a super store in Japan. In Yamanashi Prefecture, the cool wind blows down from nearby mountains in the evening after sunset ,even in summer, and this noise reminds me that summer breeze straight away.
"The dull flickering town lights"
"Homeward bound, after a festival made by magic"
On a festival night, the familiar scene suddenly has changed and we feel like walking in an unfamiliar town.
Flashing lights on stalls on a street and a big crowd, which we hardly see on normal days, cast a magic on us.
Especially in countryside like Yamanashi Prefecture, the atmosphere gap between ordinary days and a festival night is much more than in a big city like Tokyo, and once you walk into a narrow byway, the crowd and lights were like a dream - the familiar street goes on in front of you as usual.
On the way back home, "you" are smiling so happily as "you found a shooting star".
My Mizuame candy and your cotton candy.
"Looking at your precocious-looking Yukata
I was thinking something precocious"
Maybe be a 15,6 year-old girl as "you" look a little precocious.
"I" told you "love you" which "I " never say normally, and I got embarrassed and tried to dissemble "my" embarrassment by saying "just kidding", "swap it for your cotton candy"
This song is filled with Fujifabric's music world.
It is difficult to find someone who can write such a lyrics really.
There are two big local festivals in the town where Shimura was brought up in Fujiyoshida City - one is at Komuro Sengen Shrine and another is Shisei-sai at the main street (Cyuou Dori) of Fujiyoshida City.
The one in Komuro Sengen Shrine is a small local shrine which was established in 807 A.D., and
Yabusame
(

流鏑馬

),
a type of mounted archery in traditional Japanese archery, is performed in the holly festival. An archer on a running horse shoots special arrows at wooden targets, and the horses' foot prints were analysed by priests to tell the fortune of the year.
Shisei-sai (Municipality Festival) is organised by Fujiyoshida City every year, and many citizens gather to enjoy the day.
There are many stalls are set on a street in both festivals, and at the first sight, you'll know what Shimura wanted to sing about.
Enjoy listenint to "Mizu-ame To Wata-ame".