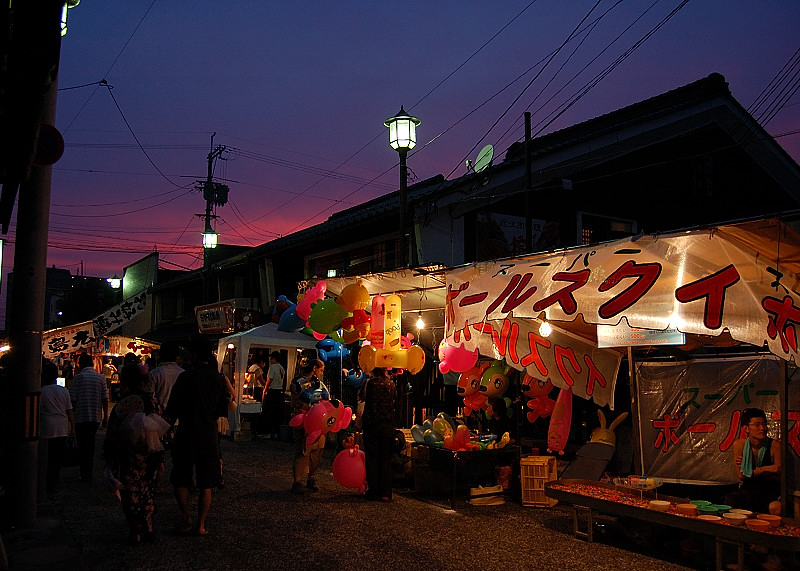 Continued from the last post about the song, "Mizuame To Wataame" (Mizuame Candy and Cotton Candy) in the 2nd album, FAB FOX.
Masahiko Shimura had written all lyrics and music of Fujifabric till then, but unusually for the band, the music was written by the lead guitarist, Soichiro Yamauchi, first, then Mr. Shimura wrote the lyrics later along with the music. This is the first song written in such a style.
The music and the lyrics match each other marvelously, and I personally think that this is one of the most Fujifabric-like songs.
Let's take a close look at festivals and fairs in Japan today.
The word, "
Matsuri
" (meaning "festival") is a noun form of the verb, "Matsuru" (meaning "enshrine" or "deify").
Though Japanese festivals are originally religious ceremonies dedicated to deities,due to recent decline of religious consciousness in Japan, the part of merrymaking in an event attracts is more acknowledged these days. Therefore, any festivals and merrymaking events are called Matsuri regardless the religious meanings.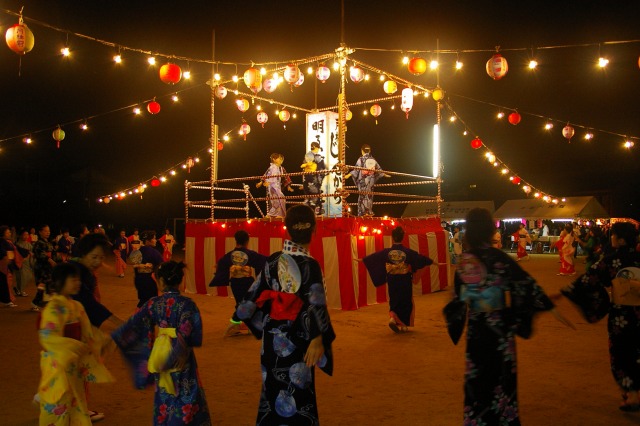 There is no specific season for festivals, but many festivals are held in summer, such as
Tanabata
and
Bon Odori
.
Many stalls are set up on a festival day along a main street.
It is surely fun at day time, but at night time, the town is filled with fantastic unique lights on each stall and looks very attractive.
Mobile stalls
are set up in a row and sell many kinds of food, drinks and toys targeted mainly at children - mizuame candy, cotton candy, bekko ame (amber-coloured boiled sweets), crepe, shaved ice flavoured with syrup, yakisoba (fried noodles), takoyaki (small octopus dumplings), poppo yaki (grilled squids flavoured with soy sauce), grilled sweet corns, a scooping superballs, a scooping goldfish, a scooping yo-yo, masks, flashing toys, etc.
Hardly seen these days, but little animals like cheeks, turtles and hermit crabs were sold an age ago.
In Meiji Era, insects for beautiful sounds were put in little bamboo baskets and sold in a temple festival.
Patrick Lafcadio Hearn (1850 - 1904), also known as Koizumi Yakumo, describes the scene at the festival in his unique fantastic way in the essay, "Mushi No Ongakuka" (Insect Musicians).
Things sold in stalls have gradually changed.
Among all the stalls, the one selling cotton candy is one of the most popular ones.
In Japanese language, cotton candy is called "wataame" in the eastern part of Japan, and "watagashi" in the western part.
Cotton candy is quite common in other countries, too, but what is outstanding in Japan is it is often packed in a plastic bag with a cartoon character on.
In UK and Thailand, a stall keeper often hands a cotton candy to a customer when it is just made, but in Japan, many colourful bags are tied up on a rail in front of a stall for decoration.
It might be prepared for the situation that many customers come at once!
A big cotton candy is rolled up on a wooden chopstick. (Not on a straw.)
Nowadays, there are a few flavours, such as strawberry and orange, but it is normally plain (sugar taste, that means.).
The price is about 500 Yen a bag.
In Japan, a cotton candy maker is sold as a toy, and it's now easier for children to enjoy cotton candy at home. (It was one of the popular toys last year.)
Another word that I paid an extra attention when translating the lyrics was "
Yukata
" (a Japanese garment, a casual light summer kimono usually made of cotton).
Yukata is originated in
Heian Era
as Yukatabira, a clothes designed for bathing. At that time, several people bathes together, so it is thought to be worn for the purpose of hiding the naked body and of absorbing sweat.
From
Azuchi-Momoyama Period
, yukata has been worn after taking bath as a gown.
The name, Yukata is a shorten word of Yukatabira.
Like other forms of traditional Japanese clothing, yukata are made with straight seams and wide sleeves, which air can go through well, people wear Yukata on the occasion of going out in summer, after bathing or going to bed.
At fireworks displays, bon-odori festivals, and other summer events, people, especially young girls, wearing yukata is a common sight. Since the late 1990s, yukata have experienced a revival - the price has gone down and designs have changed dramatically matching a modern sense. (At UNIQLO shop in Narita Airport, yukata is sold all year around for a souvenir.)
Girls wear more than boys, by somehow in modern Japan.
It may be because girls want to show an unusual side of 'me' to boys!?
In tomorrow's post, the lyrics will be analysed closely.
Enjoy listening "Mizu-ame To Wata-ame" by Fujifabric