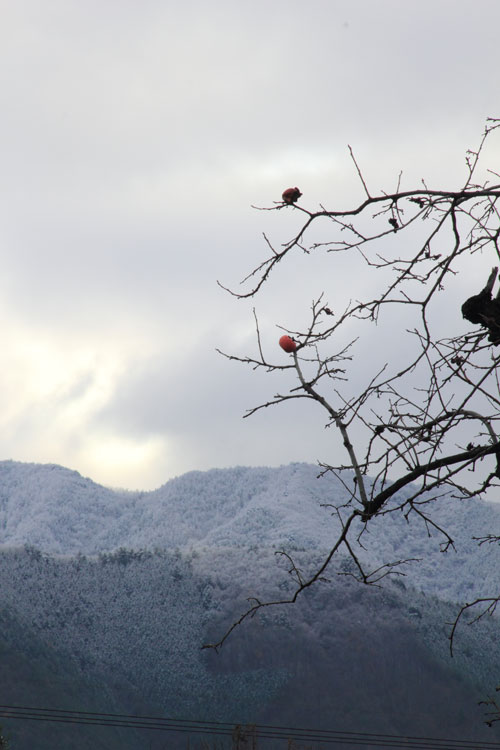 It has been just so cold in my hometown,
Yamanashi
Prefecture, and the first snow of the season was recorded by local Meteorological Office.
At
Lake Kawaguchiko
near
Mt. Fuji
, there are some events celebrating the winter cold beauty - "
Lake Kawaguchiko
Winter Fireworks - Dance On The Lake" (every Saturday and Sunday between15th January 2011 - 20th February), and "Snow And Ice Festival" at
Saiko
Lake Bird Sancutary in Mori Park. Please find more details in the following website.
Fujikawaguchiko Sightseeing Information Site
If you are planning to visit
Fujiyoshida
City to follow Mr. Shimura's footsteps and explore the beauty of nature at the foot of
Mr. Fuji
, why not to visit
Lake Kawaguchi,
too? It is only 10 minutes away by car!
Let's move on to today's topic, "Day Dripper".
This song was coupled with Fujifabric's 8th Single, "Surfer King" released on 6th June 2007.
There is no proof but this is my guess that the song title is parody of Beatles' masterpiece, "Day Tripper".
(Actually, the word, "dripper" is not a common word to use in everyday life in English speaking countries, isn't it? It sounds a bit dozy...)
Richness in music contents and substantiality of coupled single-released songs (the coupling songs are called
B-men
in Japanese) is one of the Fujifabric's outstanding characteristics, and it was also Shimura's intention and particularity.
He chose so-called "a nice song for everyone" as a single-released song, and the coupled ones are always filled with Fujifabric's charms. In other words, the band did not hesitate to write and perform more freely to express their attraction and aesthetics of their music.
According to Keisuke Imamura, who had been in charge of Fujifabric since their debut in Toshiba EMI, Shimura often said "the meaning of releasing single CDs is to confirm originality of the band and it depends on how much the band can be particular about B-men songs.".
All members of the band told in the interview on magazine that Fujifabric had a long tour travelling around Japan for almost a year in 2006, and the energy they charged during the tour was exploded in "Surfer King", and "Day Dripper" is really a song with full energy and Fujifabric-ness.
Looking back the time of recoding, "I cannot remember much about the recording process at a studio.", Shimura said in his interview
The song was written by Shimura when he was full of outrageous imagination (?), and after many discussion with the other members and pick-and-throws of peculiar sounds and words attempting to keep a balance in harmony, the members agreed to settle down in this version of the song.
Anyway, the studio was in chaos with many kinds of sounds and melodies and phrases, and the core of the song was sometimes needed to be confirmed to see where the song was really heading to!
After going through a chaotic state full of outrageous ideas, Fujifabric, especially Mr.Shimura, is after all a genius to create such a wonderful piece of music with an artisan spirit.
With "Surfer King" and "Day Dripper", Fujifabric stepped into a new sphere in Japanese music world.
Mr. Shimura claimed, "carved out originality of the band, and stepped into a place to create a new genre called Fujifabric in Japanese music scene." Their music had been full of originality from the beginning, but it was proved by these two songs that the band never be reluctant to explore new types of music, and never stay the same.
The sphere that they are exploring is where nobody has ever stepped in, like an animal trail, and the members, themselves, are looking forward to the future of the band - How much will the band grow up? What will the band do and show to us?
"Day Dripper" starts with a chorus, sung by Mr. Shimura, "Ah~Ah~Ah~Ah~! Ah~Ah~!" implying a controlled chaos in the core of the song.
As more we listen to the song, we are mesmerized by whirlpool sounds and words, exactly like "when stirring milk into coffee" in the lyrics.
Let's take a close look at the peculiar lyrics of "Day Dripper" in the next post.
Enjoy listening to
Day Dripper (at Ryogoku, Tokyo in 2007)